This year we have been helping to feed
100 new children
from the local community due to the hunger crisis of lockdown in Kisumu, Kenya.
We want to be able to have a

Christmas Pack of food and essential supplies

waiting for them on Christmas morning.
Can you help give a pack?
The children we support, and their families, need all the help they can get to just keep going this Christmas.

The curfews of Covid-19 have crippled their family income forcing them into even greater poverty than before. Food is scarce and the children are going very hungry. We want to give them not just food, but the knowledge that someone has noticed them and responded.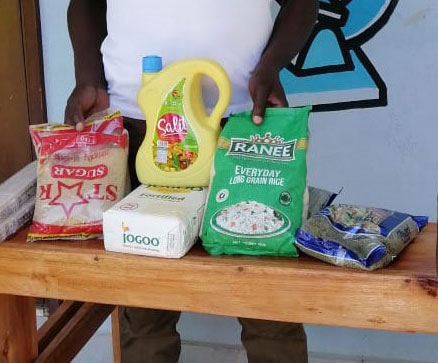 A donation of £10 will gift a Christmas pack
for a child in Kisumu containing food, soap, toiletries, flip flops and a towel plus anything you would like to add from the list below:
| | |
| --- | --- |
| | You can add a pair of shoes for an additional £12 |
| | You can add some new clothes for an additional £18 |
| | You can add a School Uniform to send your child to school for an additional £30 |
| | You may even like to sponsor your child |
"It's really great to get letters and drawings from Samuel, and to be part of his care and development. We know this gives him an opportunity to help lift his family out of poverty."

Cliff, Sponsor of Samuel
Let us tell you a bit about these amazing children in Kisumu, Kenya.
We have had the privilege for 20 years of being able to work with these lovely children who are referred to us by the local children's services or Headteacher. Many are orphaned as a result of HIV/AIDS, many are just cast out on to the streets as there are too many other mouths to feed, and some are living with family - often a grandparent - who has no income and can barely feed them.
They dream of school, a safe home, someone to love them, a future, but instead they're hungry, lonely, lost, often scared, and just accept the life they have been given with no hope or expectation of anything better. The most beautiful and humbling thing is that their suffering has not stolen their smiles.