Thank you for wanting to support one of our wonderful children through school and into a bright future.
Take a moment to read about Esther, Ezekiel and their friends.
Starting a supporting relationship will enrich their life ... and yours
Thank You!
Esther's Story
Esther is 16 years old.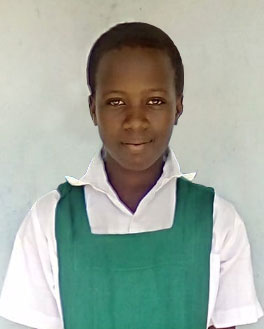 Esther is the middle child of three siblings and sadly, both parents died before she was 8. The children now live with their stepmother who works as a security guard in Kisumu. Their stepmother has two children of her own and she is struggling to care for all of them - her wages alone don't stretch far enough to feed 6 mouths.
Although she lives with her stepmother, Esther comes to our Children's Home for lunch in order to have one large, nutritious meal a day. Although she is 16, she still goes to Tieng're Primary School which caters for children aged 6-14 years old. We believe she lost a few years of schooling before we started looking after her.
Esther currently has no sponsor and we are looking for someone who would like to sponsor her to help feed and clothe her, give her a chance in life with an education and someone who will show her that she is loved.
If
you
would like to sponsor Esther, please complete the form below and we'll get in touch with you as soon as possible.
Esther would love to have her own sponsor and stay in touch with you with news and stories about her life and be able to tell you all about how she's doing at school and with her friends at the Children's Home.
Lavender's Story
Lavender is 15 years old.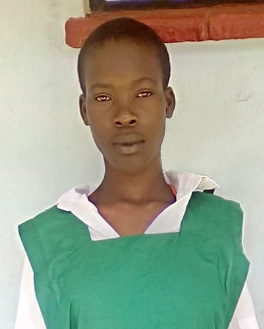 Lavender is a very bright child from a very poor background. She was born into a family of 11 children. Her father works as a security guard in a nearby company, while her mother earns a little money by working on a farm. Lavender is a top performer in her class and would easily do well in her education if she could find someone to support her. The family have had many great challenges in meeting the educational needs of their children due to poverty. They work hard but cannot earn the financial means to support their talents. One of her sisters managed to score a C+ and qualified to join university in 2016 but has since failed to go without the money to support her. Lavender's brother scored extremely highly in his KCPE exams and received a call to a prestigious secondary school but, again, finances prevented him from attending although he has been able to attend a local secondary school. Lavender can easily succeed if she were to find support and we pray that her talents don't go to waste but that she will have the opportunity to reach her full potential.
If you would like to sponsor Lavender, to help care for her, to help her to stay in school and gain the education which we believe she would excel at, she will then one day be able to break the poverty cycle and stand on her own feet no longer needing to rely on charity.
She would love to know that someone cares for her and wants her to succeed, someone with whom she can build a relationship and tell her news.
Would you like to sponsor Lavender?
Vivian's Story
Vivian is around 12 years old.
Vivian is the third born in a family of five. Sadly, her parents separated in 2006 and she lives with her mother and siblings in a rented house in a rural village. The first born of the family dropped out of school in class 8 and her two other siblings are in class 7 and 3 whilst the youngest of the family is not yet in school.
If you would like to sponsor Vivian, you will not only help with much needed support for food, clothing and education but you will also bring a stability to her life knowing that someone on the other side of the world cares for her.
Please complete the form below letting us know you would like to sponsor Vivian and we will be in touch with more details about her. She will be so excited to hear the news.
Kevin's Story
Kevin's exact age is unknown but we would estimate that he is about 9 or 10 years old – the youngest of four brothers and sisters.
His father is a casual labourer but sadly no one knows where his mother is. She has suffered from mental health difficulties for many years and left the family home a few years ago.
Kevin's big sister is at secondary school and is assisted by her maternal family but the other siblings are still at junior school and their father tries his best to take care of them around his work. Any spare money goes to pay for their school uniform and books. The family is in an extremely needy state and Kevin was particularly at risk from malnourishment until he was referred to our Home.
Kevin currently has no sponsor and we are looking for someone who would like to help care for him. We rely on people like you to help ensure Kevin will have enough food to eat and an education so that he will gain the skills he needs for a successful life ahead, finally breaking the cycle of poverty which misfortune and few resources has bestowed upon him.
If you would like to sponsor Kevin, please complete the form below and get in touch.
He would love to have someone to write to and share his news with.
Get in contact to sponsor your chosen child.