----------------------------------------------------------
Why do children in Kenya need sponsors?
Many children in Kenya live in extreme poverty where they struggle to even get one meal a day. Many are orphaned through HIV/AIDS and fend for themselves or live with an aging grandparent who has no income to feed them. Many are too poor to go to school, some are left on the streets, and certainly a large number have never knowingly experienced even a hug.
What help am I giving when I sponsor a child?
Sponsoring a child means you are providing ongoing care for a vulnerable child, providing food, education, healthcare, and most importantly, a loving home. You will literally change their lives and enable them to learn life skills and a vocation so that one day they will be able to work and break the cycle of poverty.
How much does it cost to sponsor a child?
It costs just £26/month to sponsor a child which will feed, clothe, educate and support them through a loving home in Kisumu where they can stay if they are completely homeless or go to for a cooked lunch and respite care at weekends or when they come out of school. The matrons at the home are loving and caring and look out for each child individually, visitng the families, offering life skills teaching and offering a listening ear whenever they need.
How do I sponsor a child?
It is easy to sponsor a child. Meet the children currently in need of sponsorship on this page (scroll down) and then
Click here to signup online
. If you would like to, you can say which child you would like to sponsor and we will arrange that connection for you.
Will I be able to talk to my child?
Yes. We encourage letter writing (or emails) which can be passed to your child and your child will write back. We will make sure to send you regular photos and updates and your child will be very happy to receive photos and news from you. They feel a great connection with the person who has shown they care enough to choose them. They want to make you proud of them through their results at school and tell you about their life. Your encouragement in a letter and your pride at their school work and achievements goes a very long way and helps fill the gaping hole that would normally be satisfied by a parent.
How long is sponsorship for?
We ask that you can commit for a reasonable period of time but, of course, you can end the sponsorship whenever you wish to.
On this page are the children who are still waiting for a sponsor.
Scroll up and down to meet them all and then, if you are ready, click the "Please Sponsor Me" button next to the child you have chosen and complete the form...
Boaz's Story
Boaz is 9 years old.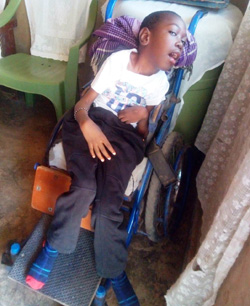 He is confined to a wheelchair having suffered from Meningitis at the age of 2. The family are really struggling to manage his disability and ongoing needs as well as to earn money to feed and clothe their other children.
His mother becomes quite emotional as she talks us through the list of supplies that he needs such as special meals, nappies and medications. Her prayer is that one day there will be some relief from their nightmare and that her beautiful son will have all the help she wishes she could give him. She hopes that he will be able to attend a day centre that can support him.
If you would like to sponsor Boaz, you will change the lives of a whole family. Please click the button "Sponsor Me" for our details of how to get in touch.
Thank you!