Kenya in the pandemic outbreak
As the Coronavirus spreads across the world, it is particularly concerning for countries like Kenya who cannot possibly be prepared for such a pandemic.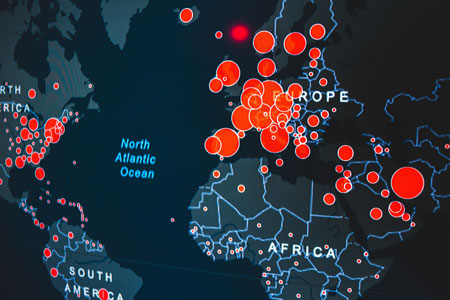 Kenya reacted relatively quickly to the outbreak as cases arrived in the country.  The government closed their borders to international arrivals, something which has kept numbers low so far. But, like many communities, Kenyan people are still not aware of the seriousness of their situation and the implications of continuing business as usual. Crowds are flocking to churches and social gatherings as they would normally.  Despite being instructed to close, many of these institutions remain open, ready to welcome their guests. Cafes and bars are open daily but must be closed by 6.30pm, buses must have no more than 8 passengers, open air markets have been closed and schools, colleges and universities are closed with children being sent home from boarding. But despite the serious message that these government actions convey, communities are angry and pushing back against such measures as they struggle with the impact that this is having on their lives and livelihoods.
At present, Kisumu is currently without a confirmed case but, quite rightly, the restrictions have been rolled out nationwide. The situation is changing rapidly though and by the time this is published, that statistic may have changed.  If the progress of this pandemic is not slowed, Kenya's health system will buckle very quickly. Medical staff are frequently on strike and the availability of hospital beds and medical supplies is already inadequate for the day to day needs of the community. It is worrying that only those who can afford private care will likely get it.
But Kenya, with the help of the World Health Organisation (WHO), have been proactive in trying hard to combat the spread of the disease and the lessons learned from past epidemics are helping to shape their response. Testing kits for early detection have been supplied across the continent with 45 countries now being equipped to test, compared with 2 at the beginning of the outbreak. Lab technicians are being trained in testing and important data tools have been made available to help nations understand the movement of the disease in order to stay one step ahead where possible. Protective equipment has been shipped to 24 countries and another shipment is due shortly for countries where new infections have been reported. As Dr. Michael J Ryan, Executive Director of the World Health Organisation, said only a week ago, "…perfection is the enemy of the good when it comes to emergency management; speed trumps perfection and the problem we have in society at the moment is everyone is afraid of making a mistake, everyone is afraid of the consequences of error, but the greatest error is not to move, the greatest error is to be paralysed by the fear of failure.  I think that's the single biggest lesson I've learned in Ebola response…". These are very wise words from a man who has seen firsthand the impact of a slow response and it explains the fast reaction of the WHO with Covid-19.  But despite these support measures, Africa is not a developed nation and, as our NHS struggles to cope with Covid-19 patients in the thousands, Kenya has very few cases and is already there.
I pray that the people of Kenya and across Africa heed the warnings and understand that this silent killer is the real danger to their lives and livelihoods. Basic preventative measures by individuals and communities remain the most powerful tool to prevent the spread of COVID-19.  I wonder what stage we must get to before communities will listen and respond in Kenya, Africa and our own nation.