How will my contribution be spent?
None of our 3 ways of regularly giving takes the form of a cash handout to an individual child, but goes into the general fund supporting all the children. However, the sponsored child knows that they have a 'personal friend' in the UK who is helping them and is especially interested in them. 75% of your subscription will be used directly on your child's welfare in Kisumu and the remaining 25% is put towards equally vital Kenyan and UK administration, management and fund-raising activity.
How will I be kept in touch with my sponsored child or area of interest?
Communication via Kisumu Children Trust based in Kent
Each year, both One to One Sponsors and special interest donors should receive:
• A yearly letter from a staff member on the progress of your sponsored child.
• A quarterly Kisumu News – posted or emailed, as you prefer
• A monthly prayer e-mail which is available on request
How does letter writing work?
One to One Sponsors – It's good if you can write at least twice a year but you can write as often as you like. Normally you'll get a letter from your sponsored child once or twice a year – these may be written by one of our Kenyan staff on behalf of the child as many of them don't yet have a good grasp of English (usually their third or fourth language).
All letters are taken and brought back in the suitcase of a visiting trustee or staff member on our twice-yearly visits to Kisumu – typically May and November.
Special Interest Donors (gifting school uniforms, for example) – You're welcome to write if you wish and your letters will be put up on a notice board for all the children to read. You will not receive a personal reply.
In order to protect the children and young people in our care, it is our policy to check all letters before they are sent out. Please send them to:
KISUMU CHILDREN TRUST OFFICE: 1 Thorpe Avenue, Tonbridge, Kent TN10 4PW
Any tips on my letter writing?
Some ideas:
Please do:-
• Send postcards of the UK
• Include small inexpensive flat items (simple bookmarks, stickers, etc)
• Keep your letters simple, short and legible (type them if you wish)
• Send a photo of you, your family and even your pets
• Get Your children involved! – writing a sentence, drawing pictures (again, be sensitive, please)
Write about things the child will understand – all the things you think will interest, amuse and stimulate him or her.
Here's a list of suggestions:
• Who's who in your family
• Interests, hobbies, sports, pets, music
• Recent events, trips out
• The area where you live
• Your locality
• What your church is like
• Your relationship with Jesus
• Simple prayer requests
And ask them questions!
As a Christian charity, we're committed to providing all the children need to grow physically and mentally, in a loving, caring atmosphere. We also want them to know about God's love for them individually – hearing bible stories, being invited to go to a mainstream church and a chance for them to make Jesus their friend. The local culture is Christian so we are not aiming to change their religion.
In your letters, you're welcome if you wish, to share stories from your own life or verses from the bible which you feel will encourage your sponsored child on his/her spiritual journey.
Encouragement – Superfood for Kids' Confidence! – Please say lots of positive things about your sponsored child's achievements, the sports they are playing, their handwriting, their relationships, their photograph. It's a wonderful opportunity to help build up the child's confidence. And if applicable, please do let them know that you are praying for them.
Try and be sensitive – It is best not to talk about the material aspect of your life, such as the size of your home, lots of new clothes, holidays you've been on or the car you drive! Focus on the simple things in life 😊
Other areas to avoid are: suggesting the child visits you in the UK or asking what gift the child would like to receive from you. All these areas can create difficult situations between you and the child, such as unfulfilled expectations.
Please don't include your address. (this could potentially be passed on and result in unwanted mail).
Can I send gifts?
For the sake of the children, we don't encourage gifts. It can overshadow the relationship and create competition and envy, since each sponsor will send a different sized gift – something you can avoid in your own family. We hope you understand.
How long will my sponsorship be for?
As long as you wish to be involved! However, sponsorship is really a long-term commitment, ideally lasting until your child completes education, if you are able. Of course, you can step out at any time if your circumstances make it difficult for you to keep up the relationship.
If you are a One to One sponsor there is a need for some consistency, particularly as the communication between you and your child is of a more relational nature. When your child reaches the age of leaving the Home, we will be pleased to transfer your sponsorship to a younger child, though, of course, you may wish to keep in touch with your original child independently of KCT
What if I need to stop giving due to changes in my circumstances?
We quite understand that things can change for you. Just let us know as soon as you can by contacting the office. This will give us change to ensure each child remains fully funded. Thank you.
How are my monthly sponsor gifts used?
Your gifts do not go directly to your sponsored child or their family, but instead enable us to provide support with what our local Kenyan staff think is best for them. This keeps things even-handed yet sensitive to needs. We also want to avoid a direct 'aid' relationship, which creates dependency. Moreover, some families include drug addicts or alcoholics and simply giving cash would not be wise.
As well as the obvious needs such as nutritious meals, clothing, schooling (and a safe place to sleep for the most needy), we offer holistic welfare support, school liaison, wise staff who will listen and care, a chance to hear about God's wonderful love and so much more.
How much of my gift is used for the sake of the children?
The vast majority of it! Funds are wired directly, in monthly instalments, to our highly experienced managers in Kisumu. It doesn't go through a third party and no 'commission' is taken. All Kenyan bookkeeping is computerised and rigorously checked by Kenyan and UK staff together at least once a month.
Like all international charities, we need funds to keep things growing back here in the UK and to ensure that you, as a supporter, are looked after. All our accounts are professionally checked and made public through the Charity Commission.
Are there any tax benefits?
Yes. If you donate online here, you'll automatically receive a receipt as an email. If you normally pay UK tax, you can use this receipt as proof when you come to do your annual tax return. Charity donations are offset against tax.
Can I visit the child I sponsor?
In principle, yes!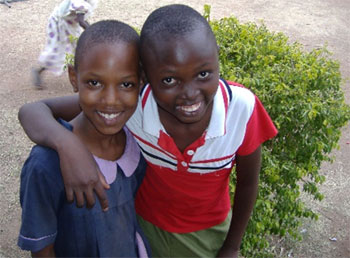 If your sponsored child lives at the Children's Home, then a visit may well be possible.
However, if your sponsored child lives with a relative or carer, some situations are sensitive and a visit wouldn't be suitable.
It's most important you don't visit without arranging it with us at KCT. We will talk it through with you, explaining how it might work and what checks need carrying out. Please let us know your thoughts at least two months before you leave to give us time. Thank you.
More Infomation
Please download our PDF fact sheet with the additional information to consider when sponsoring a child.
Sponsor a child now by completing the form above right OR contacting our office on office@kisumuchildren.org.uk or phoning us on 01732 369303.