This year has been a very busy one for us at Kisumu Children, not just because of all the goings on in Kisumu itself of which there are many exciting developments (please do signup for our newsletter if you would like to hear all about those).
But for us here in the UK, we have been visiting new exhibitions and fairs to share our message ...
... that a school uniform changes a life from one of guaranteed poverty and hunger to the chance of a livelihood and a secure future.
This year we have been to the Frome Cheese Show, Naturally Supernatural (NSN) and the Christian Resources Exhibition (CRE).  We did CRE last year but Frome and NSN were new to us.  Frome was a really fun day.  Having not been before I didn't really know what to expect but it was literally in the middle of a field with various marquee tents put up all around. The show had a giant cheese hall as you might expect but also a display of farming techniques, some fairground rides for the children, lots of food tents and much more besides.  It was a big agricultural show celebrating all things farming and rural.  My family came down for the day and had a lovely time. Our stand was in the Rural Crafts tent and I was surrounded by crafts of all types.  Next door to me on the right was organic soap and on the left was a very talented photographer. There we were with African arts and crafts, stories of the children, tattered school uniform in need of replacing and a battered old pair of shoes having walked 100's and 100's of miles.  Lots of people stopped at the photograph of Clinton in his graduation robes as much as they did the photo of Daniel in his rags still dreaming of that life.  Thank you to everyone that stopped to talk to me about what we were doing and to the gentleman who shared his story of growing up in Kisumu which was a wonderful insight to Kisumu years ago.  Thank you so much to the people who gave donations and to those who took a leaflet about gifting a school uniform.  I'm praying you will fill it in and send it back to us so another child can go to school.  Hopefully I'll see you again next year!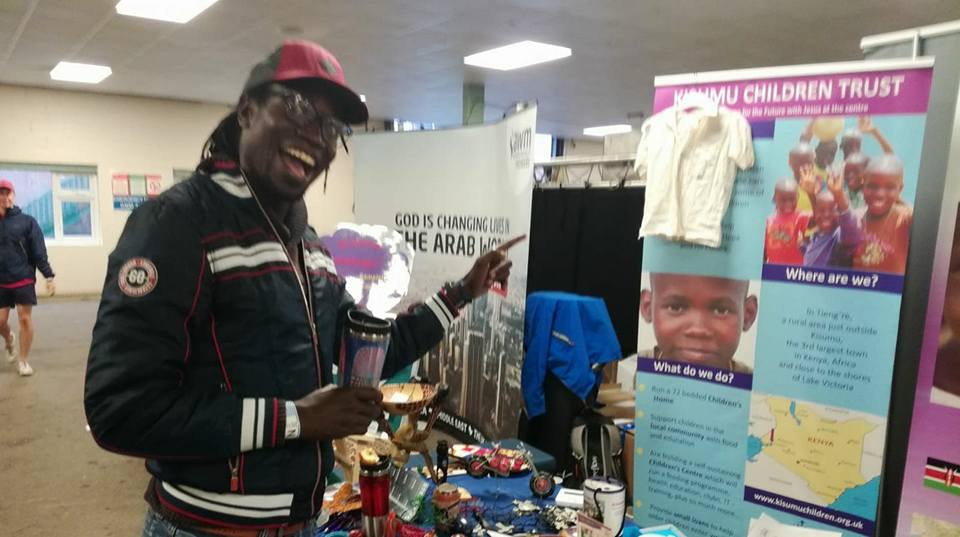 In July/August we went to Naturally Supernatural (NSN) in Stafford for 5 days.  My fantastic colleague, Mark, organised and spent 5 days working until 11 in the evening at the show talking to so many people who were excited about what we were doing.  I must add that he wasn't there by himself, we were very blessed to have volunteers helping out and our trustee, Steve, who does a great job of supporting us at these events.  Mark met a very friendly chap by the name of Lox who had actually grown up on the streets of Kisumu and knew exactly how things are for the children we aim to support.  All being well, Lox is going to speak for the charity in future and there is already a possible engagement poised for the diary.  NSN was a an excellent exhibition for us to attend and it is with sadness to know that the event will not be running again now that Soul Survivor have finished their Summer Camps.
Christian Resources Exhibition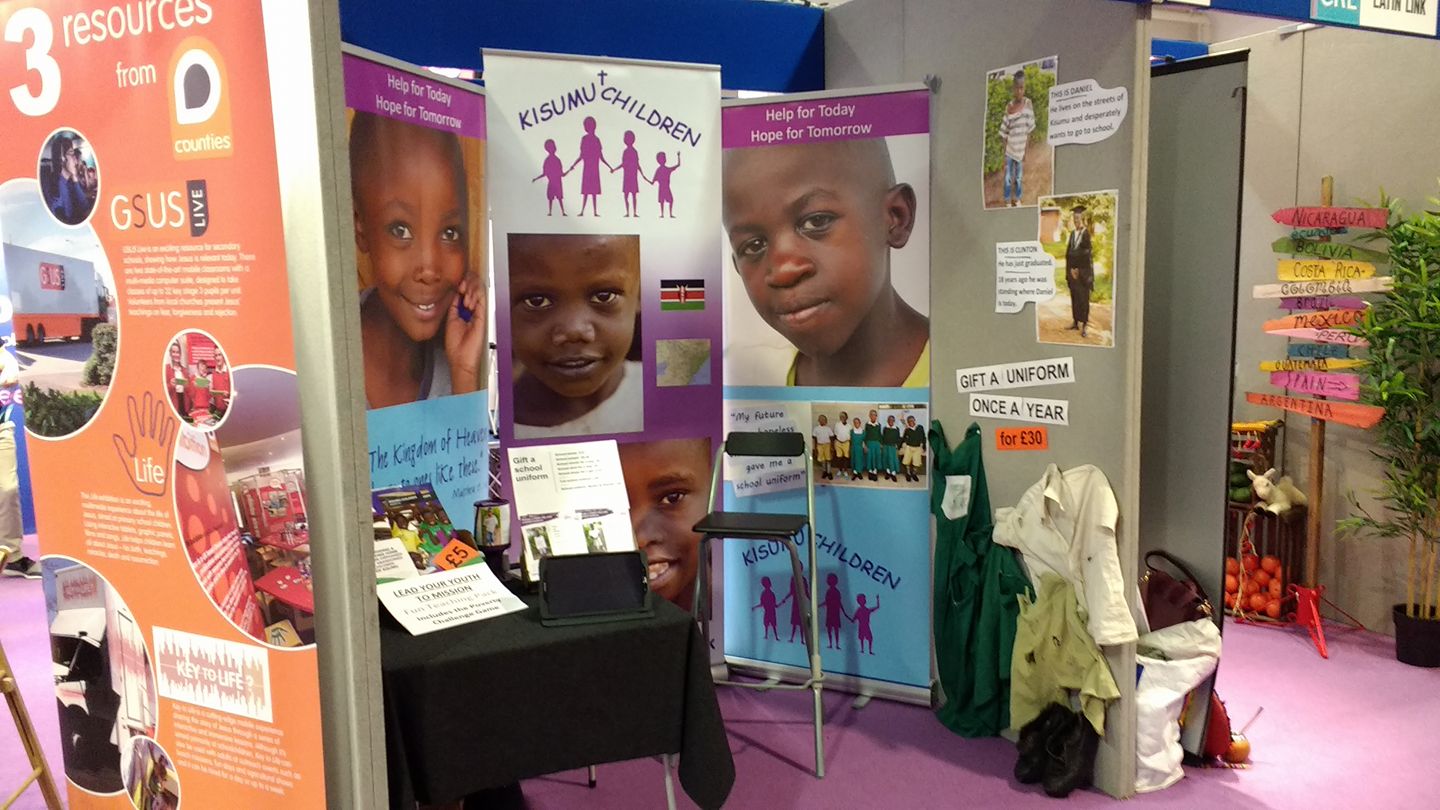 Then, next, October came and we were off to the Christian Resources Exhibition at Sandown Park in Surrey.  CRE is always great fun to do with a large number of people coming through the doors.  The stand exhibited our youth pack for those looking for youth teaching resources for their church and on the other side of the stand we told the story of Clinton's journey from rags to graduation.  Visitors coming to and walking past us were so engaged with the need for a simple uniform each year to give a child the much revered opportunity of an education and the chance to change their life out of guaranteed poverty.  Thank you once again to everyone that stopped to talk to me and to hear about the goings on in Kisumu and to those of you who took a leaflet to purchase a school uniform for a child.  I'm praying that you will fill them in and return them.
We still need someone to step forward ...
Can you Gift a Uniform to get these girls in to school?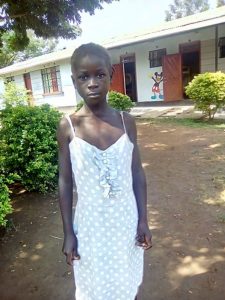 We still need someone to step forward to help us support Berryl, one of the two children whose photos were on our stands.  If you can help with uniform or if you would like to sponsor her, you would indeed change a young life.
To gift uniform,
Click here to gift a uniform once a year
or click here to gift as a one-off.
Or to sponsor, please click here.
---------------------------------------------------------------


Our Youth Pack
If you met me at the Christian Resources Exhibition, you may still be interested in our Youth Pack.  This can still be purchased, it is available now from our website shop.
Thank you to everyone that stopped to talk, it was great to meet you and to share our stories. Thank you so much for your interest and we really hope you'll join us in this work.