By Alex Campbell Odhiambo, Kisumu
I met Boaz, nine years old, living with disability. His mother had just come back from hospital where she took him for medication following a diagnosis of Malaria. She welcomes us to her house then tells us about her son.  Boaz was born healthy, walking and talking but at 2 years of age, she heard him having some sort of attack at around 3am.  She says…
"…Boaz made a loud shout and on checking on him he had fever and was convulsing. I had to rush him to Kisumu District hospital
where we stayed for 3 months having been diagnosed of acute Meningitis. He never became the same again to date. He requires more support including feeding him on a daily basis"
As a family they have to manage his condition.  This involves a lot of challenges.  He needs special meals which are expensive, and other supplies such as nappies. She described so many challenges that she became a little emotional as she recalls the list. She went on to say that Boaz is growing as the years go by and she would wish for him to find assistance for schooling and feeding but also for his health as he is at risk of contracting many diseases as a result of his condition.
This poor lady is exhausted.  She says, "I can't move away from him because he cries when left alone by me"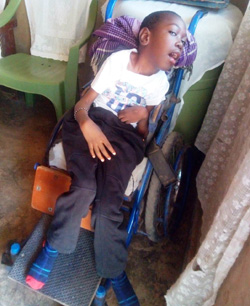 Children with disabilities are invisible and face many barriers to inclusion such as a lack of awareness of their needs in the communities, insufficient skills to be able to progress in life, negative attitudes that lead to stigma, and a severe shortage of assistive devices and mobility aids. They would want to be productive members of society but are sometimes marginalised. They are more likely to experience adverse socio-economic challenges than persons without disabilities, such as less opportunity in education, poor health care, lower levels of employment and higher poverty rates.